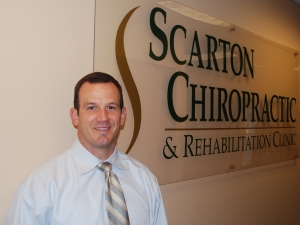 Dr. Michael G. Scarton is a graduate of Chartiers-Houston High School and spent most of his earlier years in the Washington area. Upon completing high school, Dr. Scarton studied at The University of Pittsburgh and went on to earn his Doctorate of Chiropractic from Life University in Marietta, Georgia. After earning his Doctorate degree in Georgia, he returned to the Washington area to give back to the Community that gave him so much in his earlier years. Dr. Scarton also prides himself in being close to his friends and family who are also in the area.
At Scarton Chiropractic, we aim to educate our patients about Chiropractic and other natural solutions to common health problems in order to motivate you to take a more active and responsible role in restoring and maintaining your own health as well as the people around you.
"Chiropractic care is more than just making the pain disappear. It is about learning, understanding and taking care of your body to improve your quality of life." — and that's the philosophy with this Washington PA Chiropractor.
Finding a chiropractor who understands changing health care needs and the most current techniques and approaches to addressing health problems can be a daunting task. Give us a call or just stop in by to learn more about who we are and what we do. You can also check us out on the web at www.scartonchiropractic.com. See you soon!!!